Famous Philadelphia Foods

Welcome to Famous Philadelphia Foods! Here you will learn about certain foods that are unique to Philadelphia, Pennsylvania.
Philadelphia is known for some delicious foods. The foods range from an entree, to sweets, to munchies. Some of these foods are so appetizing that places other than Philadelphia try to make their own version; however, they do not succeed at accomplishing the same great taste!
The foods that are unique to Philadelphia are:
1. Philadelphia Cheesesteaks
2. Philadelphia Soft Pretzels
3. TastyKake
4. Hoagies
Philadelphia Cheesesteaks

Cheesesteaks are a delicacy in the city. Greasy steak mixed with onions, peppers, mushrooms, or whatever you may like and finally topped with your choice of cheese. How could your mouth not be watering right now? The big question is where do you go to get this steak? Geno's, Pat's, Jim's or the local pizza joint... it is such a tough decision and you will receive a different answer from any local philadelphian.

Philadelphia Soft Preztels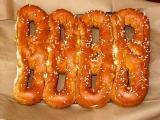 Warm, soft, doughy pretzels are a favorite in Philadelphia. Where else better to go than the Philadelphia Soft Pretzel Factory? The Soft Pretzel Factory is the place to go to munch on one of these famous pretzels, no where else better! Do not forget to add your choice of toppings/dips: cheese, mustard (regular, spicy, or honey), cream cheese, cinnamon, chocolate or butter cream. Pretzels are a favorite among the locals, and you can purchase them at pretty much anytime during the day, seeing as the factory is pretty much open all day.
TastyKake

Tastykakes are sweet treats! Cupcakes, kandykakes and the famous krimpets to name a few are famous Tastykake treats. Tastykakes can be found in the local grocery store, however they originate from the great city of Philadelphia. This franchise started way back in 1914 and has improved ever since! Click on the link below to learn more about Tastykake!
Hoagies

The term hoagie describes a sandwich filled with meat, cheese, lettuce, tomatoes, onions, pickels, sweet or hot peppers, or whatever else you may like on it. The sandwich is served on an 10-inch long Italian roll. The sandwich itself is not unique to Philadelphia, however, the name is. The term "hoagie" is what is used to describe these sandwiches. There are many stories as to how the word was created for this sandwich; the only consistency in these stories is that it started in Philadelphia. These sandwiches have many other names, however, Philadelphia is the only place you can order a hoagie.
My Favorite Web sites
Click to return to the homepage!
Click Here for TastyKake
Angelfire HTML Library
htmlGEAR - free polls, guestbooks, and more!